SAAB 9000 Pictures

900 Convertible .

. 900NG



Did I say Sixth 9000? More like seventh!.

The first was a black 1987 9000t which we passed on to a starving student when it only had 225,000 miles on it. It's still cruising around Arizona last we heard. The second was a silver 1987 9000s that had been through several students before it came to us. It was pretty rough and has now donated many parts to "Brown Sugar" the 1988 Turbo.
The third was a 1993CS [SOLD!] and then I built a 1988 Turbo [BRNSGR] - in some ways, the best 9000 we ever had - not tree-proof, however.... [scroll down]. "Eduardo" came to live with us briefly, but had a bad tranny, so Eduardo gave up many of his parts to "Q." "Q" has reached her sell-by date, and so has been retired
Now, another 9000 has come to us. Say goodbye *sniff* to "Q" and say hello to our "new" 1996 9000 CS!

She needs a little this and that [brakes, perhaps a muffer, a name], but otherwise, a lovely, well maintained SAAB!
"Q"'s story ==>
UPDATE: "Q" turned 200! 200,000 miles that is...
Happy 200-thousandth mile day to "Q"
Happy 200-thousandth mile day to "Q"
Happy 200-thousandth mile day dear "Q"
Happy 200-thousandth mile day to "Q"
It was so much fun watching the 199999 turn over...
BRNSGR!
Before: Summer of 2001 - Our resurrected 2-tone 1988 9000T! Yahoo!

After: Winter of 2003 [February] - Tree + SAAB = bummer





Buried in the snow!
Our 1993 9000CS answering the age old question: "How do I get my Sonett nose home?"
On the roof of your 1993 9000 CS, how else?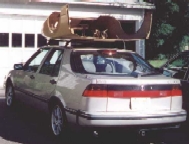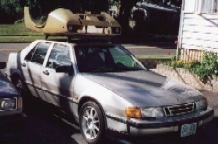 No cupholder in your 9000? Steal one from a Ford Taurus SHO!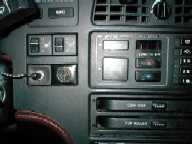 Return to Top
Other people's 9000's


Let's not forget the SAAB 9000 wagon! Never made it off the drawing board...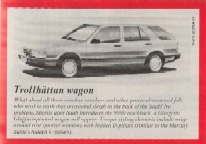 If SAAB ever did build it, it might have looked like the Lancia Thema Wagon, since they share a common plaform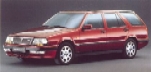 Specifications...
Margus Hơim has gathered specs for several Euro cars, including the the 9000.
Click Here and scroll down...
Ephemera...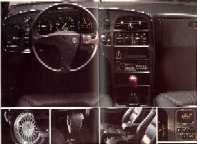 Do you know of a site, image or info that should [or shouldn't] be here?
Or the provenance of something that's not properly credited?
If any image is yours and you don't want it up here, just let me know! Email me!
Entire site noodled with and © Vinter 2005/06! If you have comments or suggestions,
email me at webmaster@peacetek.net Cooked with Macromedia Dreamweaver


Best viewed with a Computer Monitor
Jump to: Scrapbook, SETI, Conventions, Wheels, Clubs, Dealers, Etc., odd stuff
Return to Top